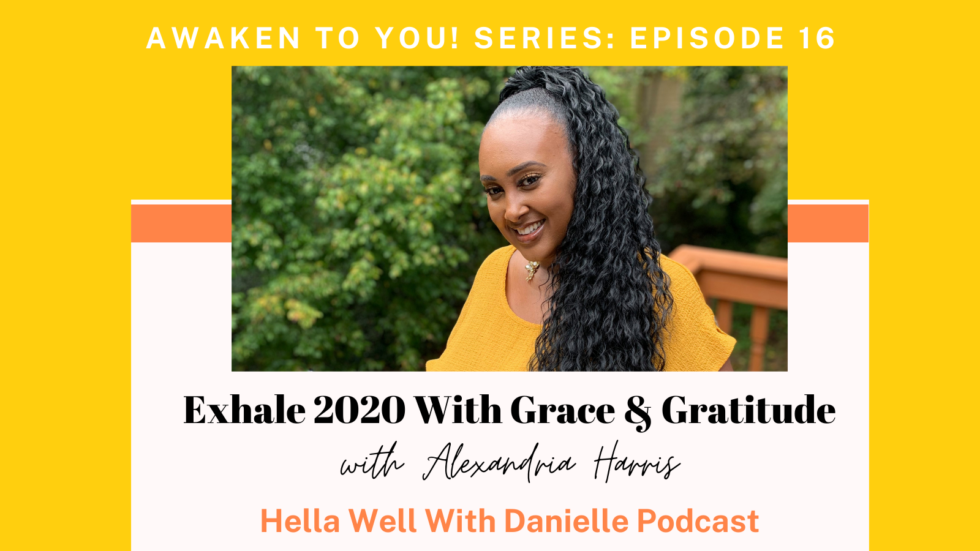 Exhale 2020 With Grace & Gratitude
With Alexandria Harris, Yes! S.H.E. Leads!
2020 is one unforgettable year. Yet, all too quickly the holiday rush leads you to rush right into the New Year without first taking the much needed time to rest to reflect on all that this year has been. There are the blessings and the lessons that you have experienced in such a defining moment of your life.
In the final episode in the Awaken to You series it's time to do an end-of-year review to unpack key areas of your life to gain and maintain the clarity you need for the next season.
Info You Hella Want to Catch:
Journal Prompts
Write the things in 2020 that you lost this year and maybe grieving?
What is something about 2020 you can give thanks for?
What are the three most important things you learned this year?
How will I commit to taking even better care of myself next year?
Resource
Be sure to also join the Hella Well With Danielle newsletter for my biggest ah-ha moments from each episode and special announcements. Sign up at: https://hellawellwithdanielle.com/join-wellness-revolution/.
Thanks so much for listening! If you like this episode, please subscribe, rate, and review.
Full Interview Transcript