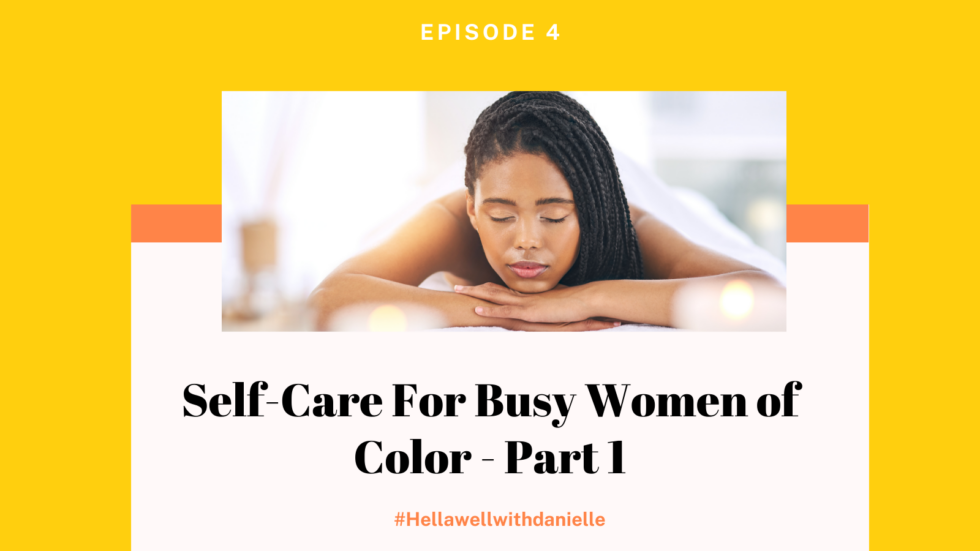 Self-Care For Busy Women of Color – Part 1
With Danielle Washington,
I'm hella not ok. And fortunately, I'm ok with not being ok, but it prompted me to do an episode on self-care for busy women of color.
So the Breonna Taylor ruling of the officers being not guilty of murder was just announced. It's like we are living in this horrible groundhog's day of a movie where it's common to hear of another senseless murder of Black lives.
Many of us are angry, sad, and filled with many emotions…and this is on top of our normal daily stressors we experience as women of color.
Seriously, self-care is not a luxury! It never has been and never will be, especially for women of color. But I get it, you're busy and questioning, "what quick ways to add self-care when you're always on the go?"
I want you to thrive and not simply survive in this world. Thus, I wanted to give you as many options as possible for adding self-care to your daily or weekly routine. But I also didn't want to make the episode hella long. So, I'm breaking this up into two episodes.
In this episode, you'll get 8 self-care tips for busy women of color you can add immediately to your life.
Info You Hella Want to Catch
What self-care isn't (4:42)
How to burn calories and bring joy into your world in less than 5 minutes (23:27)
Start with the basics (9:48)
Is this disrupting your sleep and you don't know it (10:45)
This one sentence could change your entire life (24:53)
Self-care travel (29:04)
List of things you can do with 10 mins or less (14:23)
Saying goodbye to Ruth Bader Ginsburg (35:30)
Journal Prompts
Each week I'll provide you with journal prompts to allow you to go deeper.
What would you do if you loved yourself unconditionally and were your number one priority without guilt or shame? How can you act on these things whether you do or don't?
Make a list of 25 things that make you smile that you can add to your Mood Booster List.
Recognizing the personal impact of racial trauma, how are you coping and what could you do to help yourself heal?
Resources
Full Transcript