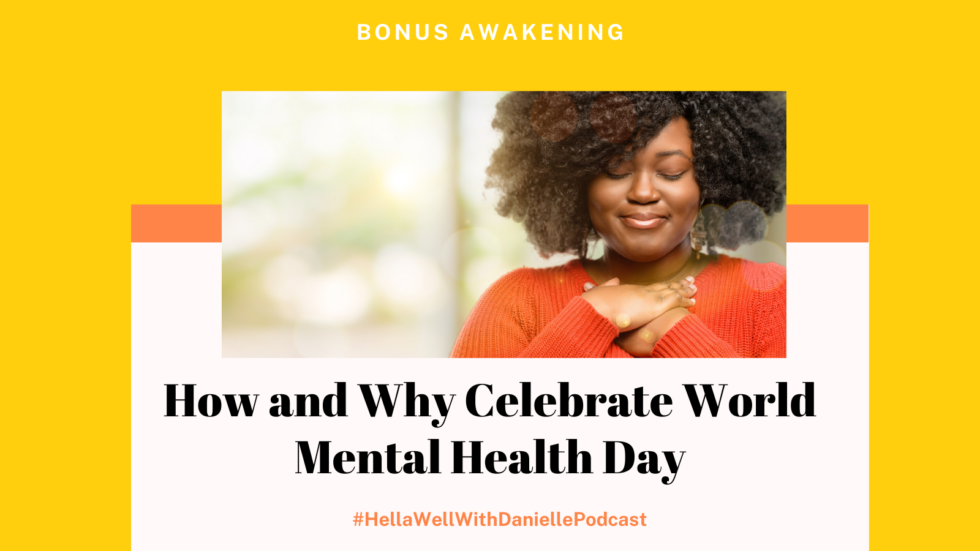 Bonus Awakening: World Mental Health Day
Oct 10 is the World Mental Health Day and honestly, it couldn't have come at a better time. Our daily lives have drastically changed from what we knew as the norm due to:
COVID-19 pandemic.
racial tensions
Economic uncertainty
In this bonus episode, discover what is World Mental Health Day and how you can celebrate by taking your own mental day and push pause on life for some 'me time.'
Create Your Own Mental Health Day
There are so many things you can do to incorporate your own mental health day. Figure out what works best for you but here are a few tips to get you started:
Acknowledge your thoughts and emotions: If you feel like you're struggling or simply not ok, be ok with not being ok and don't deny those feelings.
Take action: Once you know better it's about doing better. It does you know good to be aware and then not take any steps to make a change.
Pour into yourself: Use this day as a time to pause and focus on self-love. Consider doing things that bring you joy or working on your personal development
Honor your body and mind: Be mindful of your words and actions today.
Social Media and News Detox: This may be hard for some but take a mental health day to get offline for a day or at least a few hours. Taking a break from the negative news is also helpful as rarely is there anything positive said on the news.
Connect with your tribe: Don't forget your strong sisters out there as she also needs your love and support.
Resources:
Healhaus – Black-owned yoga studio in Brooklyn, New York that offers online yoga and meditation classes
Mindbody – This app is a great resource when looking to find an online course to move your body and get fit
Full Transcript